Title of Activity: Together we stand, divided we fall
Reference: Project Webfoot, Ducks Unlimited Canada. (2012). Wetland Ecosystems: habitats, communities and the diversity of life. Retrieved Oct 1, 2014, from http://www.ducks.ca/assets/2012/06/Grade4-6teacher.pdf
Grade Level: 5
Subject: Science
Brief Description of Activity: This lessons builds on a previous one in which students generated a T-chart of living and non-living things in a wetland ecosystem. Students are given a text to read and are asked to identify any interactions. Students are provided with sheets with hexagonal discs. They label components inside a hexagon, and write in other components that interact with it inside adjacent hexagons. Finally students write a sentence to explain each relationship. If I were to do this lesson, I would begin with a visual component using the SmartBoard. I would ask students to type a living or nonliving thing's name into a hexagonal shape and then invite them to move the shape next to another one that it interacts with.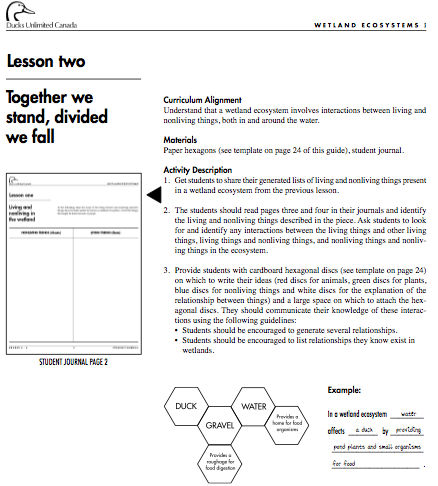 General Learner Outcome: Describe the living and nonliving components of a wetland ecosystem and the interactions within and among them.
Specific Learner Outcomes: Understand that a wetland ecosystem involves interactions between living and nonliving things, both in and around the water.
ICT Outcomes:
C1 Students will access, use and communicate information from a variety of technologies
C.1.1.2 process information from more than one source to retell what has been discovered
C.1.3.5 analyze and synthesize information to create a product
C4 Students will use organizational processes and tools to manage inquiry
C.4.3.2 develop a process to manage volumes of information that can be made available through electronic sources
C5 Students will use technology to aid collaboration during inquiry
C.5.2.2. record group brainstorming, planning and sharing of ideas by using technology
C.5.4.2 participate in a variety of electronic group formats
Rationale for Technology Integration: Students can work at their own pace on their assignment sheets as well as collaborate with the classroom when arranging interactions on the SmartBoard. These shapes can be easily moved around as the students record more and more interactions. The technology provides a visual and keeps students focussed on the task of arranging living and nonliving components that interact.
Search Strategies Employed:
Use nouns as keywords
Checking the online tutorials of the search engine
Refined key words, "Less is more"
Spell carefully
Avoid redundant terms
Be persistent
Categories: Teaching Blog