My final week of practicum went so smoothly that I have very little to reflect upon as far as course content goes. What I do want to reflect upon is my relationships.
I think that it is important for teachers to remember that you never know who you will affect and how deeply you will affect them. I built some very rewarding relationships over the span of this practicum, and I will be sad to leave. I know that I am teaching the age group that I resonate with the best, and look forward to my next practicum in high school.
I am choosing not to disclose the most meaningful interactions that I have had with students and teachers at my PSII practicum school, but I will say that I have learned a lot from each of them. Thanks to all and a fond farewell!  I hope to return next year after I have graduated as a substitute teacher (or perhaps as a full-time contract if there is a position available)!
Thursday April 16, 2015
Today was a special event day because a guest presenter, Robb Nash, came to the school. My Science 14s had review time this morning, which was productive and fairly uneventful. After losing one student for fifteen minutes after allowing a bathroom break I found her in the library and was able to help her finish her review. The 9As and 9Bs all finished their notes in a timely fashion. The 9As are further ahead, having watched a 13 minute video that the 9Bs have not seen.
Robb Nash's presentation was just as great today as it was when I saw him at a different school this past fall. I really resonate with his message to students and admire how he covers a wide range of subjects (from substance abuse to suicide to finding your "why"). I think that a lot of the students needed to hear his message and will benefit from it. 
The end of the day was interesting. I wish that all students had asked to stay in the gym because then supervision would have been easier. Half of my class waited in line to meet Robb Nash and half were chatting in the bleachers. I lost a quarter of those students when they were encouraged to return to the classroom. The last few minutes of the day were hectic, but I played science-related youtube videos in my room.
Here is a picture of myself and two of my fellow student teachers with Robb Nash:
Friday April 17, 2015
Today I observed both Biology 20 and 30. My teacher associate/mentor proctored the exam that I was giving to the Science 14s that I usually teach in block 2. Graham Boyle is a fantastic teacher and I learned a lot from observing his classes. I spoke with him about the difference in classroom management between my junior highs, my lower academic Science 14s, and his higher academic grade 11s. He made an interesting point that he does not see a difference because he always starts a course with an extremely strict and structured environment. He said that in the first two weeks of a course he is not a fun person to be around because he is so firm. When he has students where he wants them for behaviour, he relaxes a little. I found this form of classroom management interesting, but I am not sure if it would work with my personality.
I was grateful that I had planned a video day for the 9As because they were clearly having a high-energy Friday. Since we are talking about the environment and different forms of energy, I decided to show them a clip from the documentary, "Who Killed the Electric Car?" I gave them a worksheet to fill out during the video. I will find out how well they answered those questions when they hand them in next week.

Monday April 13, 2015
Today I spoke with my teacher associate/mentor about dealing with Grade 9 attitude. It was an insightful conversation in which I changed my mind about starting the week with the 9Bs by bringing up what happened before the break. It could set a bad precedent because what happened yesterday should not have sway over current lessons. We also talked about saying "tough" when a select few Science 14s don't want to work. The same individuals have a bad attitude on a daily basis, so I can be firmer with them. I am also very glad that today I took in an open book quiz for formative assessment. It was alarming to see that students do not understand efficiency, but that just means that I need to go over it before their test.
Tuesday April 14, 2015
One of my Science 14's was not here today and the classroom dynamic was much different (far easier to handle). I had over-planned and had extra resources because I wanted to do hands-on activities, but this particular student consistently refuses to participate. The 9As were very talkative today, so I spent a lot of time on classroom management, silencing chatter, and wait time.
Following up on my conversation from yesterday, I am so happy that I did not start my 9Bs with a lecture about respect and what happened before the break. They were so well behaved; it was one of my best lessons with them.
Wednesday April 15, 2015
Today I taught a lab on how to take blood pressure that did not go as smoothly as expected. Most of the meters were working, but I did not see a lot of small tears in the cuffs when I was preparing the lab. Some students played around and tried to inflate the cuff as far as it would go, and got readings of 300 over 200, which I explained to them was not accurate. Even though the equipment was not all functioning, the students still seemed to get the gist of blood pressure readings.
The 9As took notes well today, but I noticed that when I did an investigation activity with them using the textbook, most got very confused. I took in their worksheets, but noticed that their messy charts would have been very difficult to mark, so I only used it as formative assessment. As a note to myself, if ever I want to collect an activity summatively, I should provide the students with a printed handout to complete the activity on.
I am noticing that my teaching practice has become very routine. I do not have as much to reflect upon now as when I initially started, because the almost all of my lessons go well.
Thursday April 2, 2015
Today was the last day before the spring break. This morning I visited the principal. I had a question from the previous day in which I overheard a miscommunication between a student and teacher that got emotionally heated. I asked him how do we, as teachers, continue to maintain an unconditional positive regard for students and yet still deal appropriate discipline to them when they misbehave?
The principal said that there are three things that a teacher needs to know.
(1) First, have a short-term memory when it comes to behaviour. What happened yesterday has no bearing on how you welcome your students today.
(2) Second, recognize that your classroom might be the safest place for students, so develop strong relationships with them.
(3) Thirdly, if you have done the first two steps diligently, then dealing punishment is not a personal attack upon a student. There should be an understanding that there are consequences (good and bad) for every choice that a student makes. It does not mean that a teacher "likes" a student any less, but the teacher's "I" of emotion should never enter the situation.
I really appreciated this conversation and set to continue cultivating positive relationships with my students.
In block 2 I tested the Science 14s on Chapter 8, which is a closer look at cells. I did not want to start a new topic today, so instead I gave them a fun lesson about parasites. We then watched "Ice Worlds" from Planet Earth, which I will reference for adaptations in our next chapter after the break.
The first group of grade 9s were, as usual, fantastic and very well behaved. However, I had some attitude issues with the other group of grade 9s. While doing math-related practice problems, several students concerned themselves more with who was getting better marks in math class than in what they were supposed to be learning. I also received some negative attitudes toward the study sheet of practice problems that I gave them—most saying that they wouldn't bother doing it. Finally I had several students gang up on a boy for being on his phone during class time. I am aware of a previous history of bullying against this individual and I instantly recognized that his peers were trying to get him into trouble. I told the students that I did not see him on his phone, so they could let me deal with it later. Even as I re-directed their attention to the lesson, another student piped up about the lack of punishment. After the spring break I might need to have a little chat with my 9Bs about proper attitudes and respect in the classroom, including a much needed reminder to MYOB (mind your own business).

Thursday March 26, 2015
Today was a special event day with shorter classes. The Science 14s were taught 7.4 and then had time to create study guides to bring into their test tomorrow. The special event was prom speeches, which was occasionally boring but I hope that it helped school spirit. I confiscated two orange floor hockey balls from high school students in the stands who were playing with them and dropped them loudly. The 9As took a few minutes to settle, and then we did our 2 minute calm.com relaxation. By the time I got them settled again we were 10 minutes into the class time. I'm not sure if the benefits that some students receive from the relaxation time outweigh the value of class time used for other purposes. I think that in order to see results the calm.com visualizations need to be used for a much longer period. Some students have still not bought in to the quiet time.
Friday March 27
Today was test day. I think that the Science 14s were happy to be done with simple machines. Contrary to my planning, they were not as interested in the topic as I thought that they would be, probably because ramps and pulleys are not as interesting to them as larger-scale mechanics. The 9As only had time to write their tests, but the 9Bs received a review before and a topic 7: electricity in the home lesson after. The 9Bs seemed to do much better on their tests—I think because they had a more immediate review beforehand. This was a difficult test for a lot of students, but some got 100%. I do not want to penalize the students who did well, but I want to help the students who struggled. So I will be taking five of the more poorly done questions from this test and putting them on their topic 7 and 8 test. By re-measuring this outcome I can give students the opportunity to raise their average.
Today I tested the Science 14 and 10-4 students on their Chapter 6 content. One of my female students was very stubborn about writing tests on Mondays. I told her that my intention was to test them Friday, but there was no school on that day. She proceeded to make noise, sit sideways in her desk, and talk about how her hands smelled of celery. I attempted to manage her noise, but then noticed that a different student was sitting sideways. I decided not to tell that student to turn around because then I would have also have to attempt to get my more rebellious student to do the same. Instead I watched each student's gaze very carefully to make sure that they were not cheating. I have decided that next exam will need a spaced out seating plan.
The 9Bs got to do exploratory stations today. I chunked their 90-minute block into 5 minutes of reviewing their test, 5 minutes of reviewing the previous lesson, 35 minutes of notes, 30 minutes of exploratory stations, and 15 minutes of quiet seatwork.

I have an issue to address with one of the grade 9's. This student did not adjust well to the change of a new teacher in the classroom, proceeded to talk with her friends, did not pay attention, and consequently failed her test. I did not talk with her about her failing test mark today, because I wanted to give her time to process it. While she did not pay attention during the review, she did quiet down during the new material. On Wednesday when I see her next I will tell her that I want to keep her close to her friend, but that the chatter needs to stop. The ball is in her court and it is her decision to pay attention or not. I know that this student does not like me and I do not take that personally at all. I will continue to hold an unconditional positive regard for every student, even if they do not return the sentiment.
A common interview question for teachers is, "Is it important for students to like you?"
A common new-teacher response is, "not as important as it is for them to respect me."
I think that most kids will not learn from someone who they do not like, but I think that it depends upon age and academic level. Small children and low academically achieving students refuse to learn from teachers who they do not like. However, highly academic students (in my opinion) will trust a knowledgeable teacher to get them through the course and their diploma/PAT exams. That teacher may be boring and they may not like them, but students respect high school teachers who can get them through their course.
I think that this grade 9 student is not learning due to a mixture of dislike, lack of interest, and lack of trust. The collaborative learning that I started with did not suit her learning style, so she lost faith in me as a teacher to get her through her exams. Similarly, she chose to not pay any attention to me because I am new and I think that she was uncomfortable with the change. Since she is still in the ninth grade, she does not have the self-awareness to take responsibility for her failure because it is far easier to blame me than to own up to her lack of work. As a responsible teacher, I will let yesterday be yesterday and I will focus on helping this student be successful today and in the future.
As an aside (and to finish off with some humour), I love all of my students unconditionally. I am not as sensitive as this cute puppy, but I do want students to trust me for their own benefit--not for mine.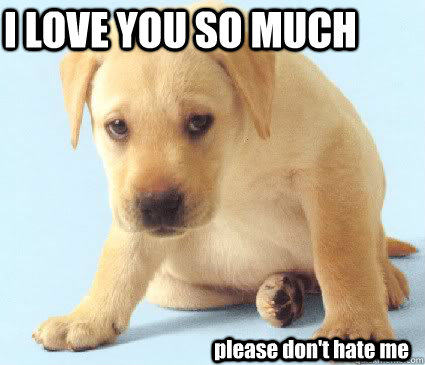 On Wednesday we had a firefighter guest speaker come in during Science 14 to talk about protecting against dangerous heat transfer. The students LOVED it! There was a lot of very interesting information presented and the students were very excited about trying on the articles of protective gear. They especially liked the gas mask, which projected air pressure and vitals information onto the mask like the Iron Man helmet. The students we engaged for the full 90 minutes. 
I was very happy that the guest speaker's presentation went so well. The previous day a few students had grumbled about skipping class because they do not enjoy guest speakers. However, they were so intrigued that none even bordered on boredom!
The Science 9's had their topic 4 and 5 test. I gave a quick review before the exam to help students with better short-term memories and to address any confusion before writing the test. I had the 9Bs for a longer time block and so I introduced topic 6 on electricity and magnetism to them.
On Thursday morning the Science 14s zoomed through section 6.3 and had a very long time to review. Some students were done their work with thirty minutes left in class and made comments about wishing the test was that day instead of on Monday after a long weekend. I talked with my teacher associate about this, and he reminded me that I had some slower-working students who would not have been ready to write their test. Differentiation requires that we give more time to those students who need it in order to level their playing field.
The 9A's were extremely engaged in their electricity and magnetism lesson. My teacher associate/mentor said that my story of working with an MRI magnet was so interesting to the students that they were all hanging on my every word. I am very grateful for my background in scientific research because it gives me relevant and relatable stories to explain concepts to students.
I attended parent-teacher interviews again in the evening, but did not learn anything new that hadn't been addressed on the Tuesday.
Friday was staff planning day. I held a one-hour yoga session in which I instructed 6 teachers. While I was teaching I was not sure that I was explaining poses very well because I had to pause and remind myself what side (left or right) I wanted to say to the people who were facing me. I ended up turning my back to face them the same in order to explain some directions for poses. I need not have been worried, the teachers I instructed were very happy with my pace, explanation, and reassurance that they did not need to force their muscles too far into the poses. I had to remind myself that not everyone is flexible enough to even attempt some yoga poses, so I modified my planned sequence to omit certain intermediate-level poses.
After my yoga instruction, another teacher instructed on laughing yoga, which was quite the abdominal workout and very funny. We finished our professional development with a mindfulness discussion about integrating relaxation techniques into the classroom.

On Monday I tested the Science 14 and 10-4 students on their Chapter 5 content of heat and heat transfer technologies. After their test I introduced 6.1 absorbing and losing heat. We performed a lab in which we heated the same amount of cooking oil, vinegar, and water. We determined that cooking oil got the hottest because it has the lowest specific heat capacity. I found this lab very useful in explaining the concept that water can absorb a lot of heat. I was also reminded of the importance of preparing ahead of time, but thinking on your feet and not letting students know when you are preparing on the go. I had difficulties with the printer in my prep period before class, so I had to set up the lab experiment while students were writing their tests. My teacher associate commended me for not letting on that I was not prepared; the students did not know that I was working on my toes (or thinking on my feet as the saying goes).
I instructed the Science 9s on batteries as electrochemical cells. I handed out all of their worksheets and study guide, and got students set up with the Remind application. I organized the lesson into two parts: one instructional, and one work period with partners or groups of three to complete the review booklet (which was not taken in for marks).
On Tuesday I taught the Science 14s about insulation. Going into the lesson I was less than confident. I thought that my lesson was boring and had no idea how to make it more engaging. I spoke with my university consultant who reminded me that I did not need to be an idealist. "The way they talk about teaching at the university is not the same as teaching in the real world," he reminded me. I think that I am finally starting to process that statement. I differentiated my lesson by asking students to design a four-room house with one heating source and got some great ideas. One student in particular drew a gorgeous home with a central fireplace. As it turns out, my lesson on insulation was not that boring at all.
I prepared my 9As for their test the next day, and could tell that they would be ready for it, even if they seemed a little nervous about it. In the evening I attended parent-teacher interviews. I found sitting in on these meetings to be very valuable. One student was given the much-needed advice to turn off her phone while studying. Another needed help finding where to look for answers in the notes and textbook because he needed to develop organizational skills and take better in-class notes. My teacher associate/mentor discussed strategies with students and gave their parents an idea of what grade ten would look like next year.

Today I was observed by my university consultant. I taught the Science 14s about cooling systems using PowerPoint notes and YouTube videos. I think that my engagement of the students was very good. As far as a note-taking lesson that is both engaging and effective, I would rate this lesson as a 9 or 10 for my Science 14s.
I think that it is important for my to include "Please take off your hats" on the first slide of every PowerPoint. I do not notice hoods or hats because it doesn't bother me, however I must follow the school policy.
I was very happy to see the boys in the class so engaged in the cooling system of vehicle engines. I thought that the videos I used enhanced their learning. I think that I asked good questions, had good pacing, and used good analogies to explain concepts. My university consultant commended me for a good speaking voice with good volume and enunciation. I think that one of the most important considerations when teaching Science 14 is having personal interactions and building positive relationships with the students. I absolutely love my class and am so happy to teach such wonderful young adults. I do not need to pretend to be cool because I've never been "cool" or "funny" but I can be relaxed, open, accepting, and have a joking sense of humour. I have been able to get to know some of the students interests, and I am hoping to incorporate them more into my classroom. I'd like to find some experiments that involve exothermic explosions, but have not found many that would be safe and easy for a classroom.
I had a fun class with my 9As today. They were all caught up with the 9Bs so I had some extra time to play a game called "This or That." My teacher associate pointed out that I was able to hit the interests of every student in the classroom, especially some of the "at risk" students. Again, personal connections are very important to student engagement and learning. I also wanted to have a fun class with the 9As because they were so chatty earlier this week and I had to lay down the law with them. This way they have seen my assertive side as well as my fun side. I look forward to getting to know each of my students.

Today I gave the Science 14s a lecture with direct instruction, notes from the PowerPoint, and an assignment. I was sure to differentiate the assignment for the K&E students to be fill-in-the-blanks, matching, and multiple choice instead of written short responses. The Science 9s also received direct instruction on energy transfer and generation of electricity. Hoods and hats were not even an issue because I put a memo to remove them on my first slide, and students self-monitored. Both of the Science 9 classes were amazing 10 out of 10 lessons. However, that is just compared to my first lessons. Therefore my next reflections will use this lesson as a benchmark. If I gave an equal lesson to this one tomorrow, it would be an 8 or 9. There is always room for improvement, but I am very satisfied with how well I am doing so far.
Today I am reflecting on something that my teacher associate/mentor told me, "expect the best publicly; prepare for the worst privately." I must never let the students think that I'm floundering, and at times previously I have dared them to misbehave. I can change my wording to set students up for success by giving the positive expectation of what TO do while ignoring instructions of what NOT to do.
I am also thinking about having my head on a swivel. Teachers have so many things to do all at once, and being observant of all students at all times is crucial. I need to learn how to multitask giving instructions and scanning the room at all times. This is why I think it is more beneficial for me to stand at the front rather than walk around the room. I cannot see student's faces when I am circulating. Also, I think that circulating is a better method for a physical classroom structure with table seating in which students sit at slightly different angles. I would not want to change the current grade 9 seating plans because it is working well for them. After seeing how they go off-task and chat too much as it is, I do not think that tables would help their learning process.
I talked with my TA about how students give almost anyone the benefit of the doubt and almost any new classroom management strategy. A lot of what I've learned at the university has been tested and researched in only a few classes and only for a short period of time. Can these strategies be done throughout the year consistently?
Here are my notes from today's lesson:
• At the end of the day, do not say, "Who is going to go tell the principle why you are late because you were so bad?" • Instead when they are quiet say, "See, you can do it. You are capable of behaving maturely."
• Consider being planted at the front of the room.
• Jigsaw did not work.
• Cue with an agenda. Tell them what we are going to do today.
• Let them know what to do. Whatever is on the slide, write it down…. De-clutter slides
• Especially for the students who were not here, tell them to write their notes on the handout.
• Differentiate notes… for K and E either make their assignment true/false or matching, or fill in the blank, or multiple choice. Make K&E do less writing. Give them very clear instructions
• HATS OFF!
Today I realized that the lab I did with the Science 14s and 10-4s could have been completed in 45 minutes and it may have been more productive with less down time. I think that the components of the lab were effective, but I was very surprised at the lack of written responses on student lab report sheets. Even when I pointed out exactly what they were to write for observations, some simply chose not to. I am not sure yet how to assess this. I give the lab a 6 out of 10, but if it were quicker I think it would have been an 8 or 9. Students really enjoyed setting toilet paper on fire using petroleum jelly or Crisco lard as a continuous fuel source. They also enjoyed playing with thermometers, holding the ends and asking about the mercury inside. The quick quiz formative assessment was indicative of very low understanding of the concept of friction. Very few students understood that friction was the resisting of two objects being rubbed together.
Today I had the 9As for a forty-five minute class, which I will give a 5 out of 10 for learning and my early mistake of not cuing. I give myself a 9 out of 10 for classroom management to salvage the lesson and not lose my authority. I am considering planting myself at the front of the room, rather than circulating throughout the classroom. In PSI my mentors and university consultant encouraged me to circulate past every student. However, that takes me out of the line of sight of the grade 9s. My PowerPoint slides were cause for confusion with the lower achieving students. The K&E (knowledge and employability designation) students were overwhelmed by too many words. While I thought that I was preparing students for proper note-taking by providing them with bolded words within the slides, apparently they do not understand that while all information is relevant, only key words have to be written down. I started by telling them that I would go over thermocouples for them. I could tell that after two slides I had lost them. So instead I let them return to their groups and circulated with my explanations. I realize that they were tired after two slides because I did not properly cue them and say, "We are not doing groups today. We are taking notes from the PowerPoint slides. I will explain each concept to you and expect that you will copy down notes into your booklet. Everything is laid out for you in your booklet to make taking notes easier."
The problem that I had was that the class did not work hard, but instead chatted and wasted time. So I brought their attention back to the front to go over the concepts. I said, "I'm sorry to those of you who were actually working hard, but most of you were not. We are going to get through this material and if you don't pay attention, I will have to keep you back from your next class." I had to pause frequently in silence to wait for students to stop chatting. Well the bell rang and students began to stand up I said, "Sit down. I did not excuse you. We are not finished yet. Don't put away your binders, get out your booklets and write down the definition of the piezoelectric effect." I stood silently at the front and stared at the students. The educational assistant asked a great question about piezoelectric crystals that I answered. Then I dismissed the class. When talking with my teacher associate/mentor afterwards, he was very glad that I followed through on my consequences, but wouldn't advise holding them back again. I sincerely hope that I will never have to do that again. I want my students to know that I care about them, and while I will continue to hold an unconditional positive regard for every student, I am going to assert that there will be consequences for their actions. Tomorrow I will set my students up for success by giving them an exact agenda and expectations. I will have both the 9As and 9Bs for forty-five minutes. I will welcome them all into the class, ask them to remove their hats, and silently wait until they settle. When they do settle I will wait for another moment and then say "thank you, see I knew that you had it in you, that you are a fantastic class and you are very capable." Then I will tell them our agenda for the class.

For my second lesson with the Science 14s we reviewed convection, conduction, and radiation before moving on to the particle model of matter, Brownian motion, and temperature. First we addressed that hot air rises because it has more kinetic energy and is less dense than cooler air. To illustrate, I blew up a balloon and held a lighter beneath it. The balloon popped because the hot air expanded. This also illustrates that particles are in motion. To further student understanding of Brownian motion, the students placed drops of food coloring in a tray of milk and observed its apparent stability. Then students dipped a soap-covered Q-tip into the suspension and found that the food coloring moved to the sides due to an interaction with the soap.
The students experimented with rolling bouncy balls, a tennis ball, and a golf ball along different surfaces to demonstrate friction. They came to the conclusion that bumpier surfaces restrict the ball's motion, and therefore have more friction. While this activity was fun for some students who willingly participated, others did not feel as engaged.
The final set of notes that I asked this class to take was on the difference between kinetic energy, thermal energy, and temperature. After this concept was explained, I split the class into three groups to play trivia. I thought that trivia was an extremely beneficial activity because it promoted collaboration within teams and stimulated a healthy amount of competition between teams.
We finished the lesson with teabag rocket experiments. I asked students to hypothesize what could cause the lifting of the burning teabag, and got some very close answers about hot air rising. I hinted at the potential for an exam question because a convection current is responsible. Overall I felt that the instruction and engagement of this lesson was also about an 8 when compared to my first lesson. However, formative assessment through trivia answers would make the success of collective student understanding a higher 9 out of 10.
Then I taught my introductory lesson to the grade 9's on the energy connection to electricity. I found the content of energy transformations taught through the process of a story and class brainstorming of energy examples was very effective for the group of students. The jigsaw idea to promote student-directed learning and peer collaboration was well intended but did not have the desired results. I had the 9A class for 45 minutes, which was the perfect amount of time for our activities. Class ended after students had had time to perform background research into each sub-topic (thermocouples, thermopiles, thermo-electric generators, piezoelectric crystals, and light bulbs).
However, I had the 9B class for 90 minutes and then gave them additional time to teach one another their sub-topic. I was able to get the 9B's further ahead in their understanding of electrical transformation in power grids, but realized that their retention and comprehension of thermocouples was very weak. My teacher associate/mentor pointed out that I could have reprimanded the students for not paying attention to their work. Since many groups went off-topic and chatted instead of working hard, it is no wonder that they did not fully understand the content. I have decided to go over each of the sub-topics in the next class. The next class will involve more note-taking and lecture-based direct instruction to get students back on track. I think that it might be beneficial to give more content up front, and then do activities to deepen understanding after. I will also need to keep in mind that my 9B's need to complete two 9A-equivalent lessons each time that I have them in my classroom in order to keep up with a balanced schedule. As my teacher associate/mentor explained, testing is much easier when you can administer the same test to both groups on the same day.
I would give the first half of today's class (the entire 9A lesson) an 8.5 out of 10. However I should have been firmer in the second half of the 9B's lesson, and so I think that it only deserves a 5 out of 10. It certainly did not flop, but the last half was not successful as far as student learning and engagement are concerned.

Today was my first day of teaching a class of Science 14 and 10-4 (K & E) students. We introduced the flow of heat energy from hot to cold objects and the three ways in which thermal energy transfers: convection, conduction, and radiation.
Since this is my first lesson with this class, I will (almost) arbitrarily assign its' success as an 8 out of 10. This will be my reference point for reflections over this first week of classes.
I modified my lesson plan while teaching to accommodate the interests of my students. I noticed that the energy transfer story was not hitting home, so instead I brought out my Newton's cradle and slinky to demonstrate mechanical energy transfer as an analogy for heat energy transfer and conservation of energy.
I think that sitting in a circle was very beneficial for establishing an informal environment. The Science 14s are mature enough to handle conversations with give-and-take commentary. I think the structure included everyone, keeping them accountable to the same conversation. I found this especially useful because usually the class splits into two groups at the back of the room, which could potentially make class discussions feel disjointed. Pushing the desks aside and arranging the chairs in a central circle also freed up enough space to do our kinesthetic activities.
1. Convection: We modeled convection as water particles that had to stay within a pot (an enclosure of chairs). As the bottom particles warmed up, they rose to the top, meaning that a student would walk up the middle of the space, then cycle back down again after cooling. As the "water" got hotter, two particles left the top of the pot to become water vapor. Two people bubbling out of the pot and circulating above it then modeled air convection currents.
2. Conduction: Students stood in a line and modeled energy transfer through direct contact by giving high-fives down the line.
3. Radiation: We then sat back down and did the "wave" to role-play heat energy radiating away from a source without direct contact.
I think that taking notes of each concept's definition was also important. I only had one slide for notes, but noticed that in my formative assessment of a quick quiz, or exit slip, that convection and conduction were not easily remembered. Therefore, we will review the difference between the two concepts in our next class.